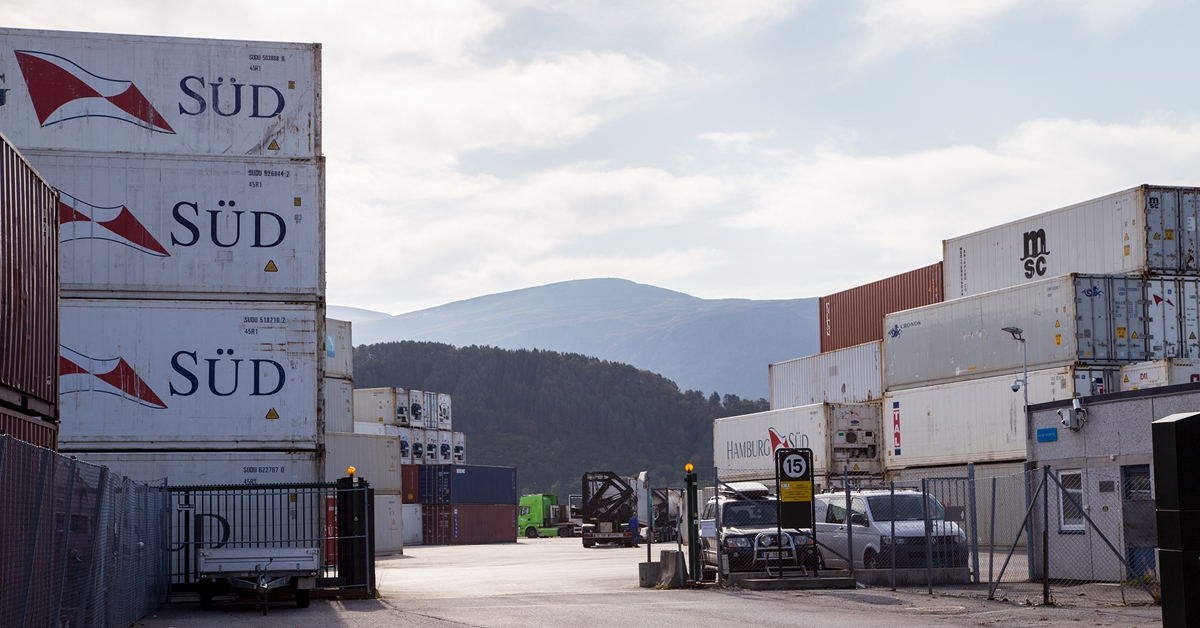 Publisert den 03.10.2017 av PTG Tempra AS
Reefers in good hands
You may think that workers within the same profession can do the same kind of work, regardless of their location and employer? Not in this industry.
Depending on location - routines and working conditions has great variations. Despite that similar tasks are being performed.
Departments and partners
Photo: Google maps.
Tempra is established in Aalesund, Bergen and Oslo. We have certified partners in all other major ports along our extensive coastline. Our partners and us also cover small ports in between. This is challenging, given our geography. This require high flexibility and mobility from both us and our partners. In Aalesund we have three ports; Skutvika, Flatholmen and Breivika. Each port is operated by various shipping companies, which in turn have individual operational procedures.
All operations are carried out using our routines. All our partners operate with strict quality requirements, quality standards which we have determined.
Routines and communication
We have 5 certified technicians covering the 3 ports of Aalesund. They are responsible for all container operations in our municipality. We need to keep all customers satisfied and we need to ensure that proper PTI is being carried out in all ports, also during peak season. This demands high efficiency, proper communications and very good infrastructure.
We in Tempra are extremely proud to say, with good conscience, that we coincide with all these requirements.
All in one place
Most Norwegian ports have gathered all services in one place. With no such thing as OOCL Stack, MSC stack, washing stack etc. Various tasks for various shipping companies are carried out by the same personnel at suitable locations on site. We approach most problems in a practical manner with a high degree of flexibility.
Office operations
We start every day with a quick meeting, planning how the day should be like and where to add extra resources. Being a large refrigeration company, we benefit from having great flexibility when it comes to staff. We always have trained personnel available in other departments, capable of doing reefer service on short notice.
Paperwork are carried out by everyone, but primarily by our office staff at our head office. All personnel have their own PCs, allowing them to access the shipping companies` own electronic systems whenever necessary. The office staff has the full overview of our operations in all ports, all over Norway.
Releasing reefers in excellent condition
Every PTI starts with a physical and visual check.
Our trained technicians listen to the sound of the machine, in many cases the sound may tell us whether a component is broken, or close to breaking down. Paying great attention to details very often saves us from replacing an expensive compressor, by noticing malfunction in an early stage. This goes with all moving parts within the machinery; fans, relays, valves etc?
The visual check may uncover oil on components, oil which indicates a leakage on the refrigerant circuit. Usually the leakages are small, and in most cases the unit will clear the automatic PTI test. Unfortunately, this will not last very long. A few weeks later, the container will be at sea, far from shore, and without refrigerant. Causing its precious cargo to rotten. As important is the hull itself, container trucks often miss the corner posts and puncturing the container. This will damage cargo over time, but it would likely not be noticed by the automatic test program during PTI.
The rest of the PTI is carried out automatically by the built-in controller. The controller contains sophisticated systems which carries out timed tests of all components within the machine. A simplified summary:
It compares the temperature probes with each other and tells us whether they are correct.

It will measure the electrical current for various components and tell us whether its within specified limits.

It will cool down and heat up, and meanwhile measure the time needed to reach desired temperature, if it takes too long it will tell us.
Additional costs and more expensive operation
Norway is a country with high living standards, as many other countries this causes the cost of labour to be very high. Wages are higher than in most other countries and so are costs for services like freight and handling. Being a small country with relatively small cities, we can?t rely on local shops to have spare parts in stock. Therefore, we stock a large amount of spare parts in our own warehouses. Having many parts in stock does not benefit us economically, but it does allow us to perform repairs quickly for the benefit of our customers.
There is no such thing as bad weather...
Most of the ports in Norway are located along the western coastline, surrounded by the north Atlantic. This means that the weather affects us in a great extent. Powerful weather systems build up over the ocean and hit us on a regular basis. Having primarily outdoor work it is challenging at times. Again, being flexible enabling us to get the containers through testing, despite the challenging conditions. We stack up the containers which requires welding, so that we can perform these repairs during days with nice and calm weather. Likewise, we do indoor repairs while the weather is wet and windy. Being always one step ahead keeps our head above the water and our business running smoothly.